In 1990
, Michael Cuming formed the group " Visions of a Nomad" a new project in search of fusing old and new traditions into a new genre, Michael pioneered the use of the didgeridoo in combination with Classical, Jazz and World music influences and composed a repertoire that took people on a explorative journey around the world, the symphony was designed as a non stop concert with compositions spanning 50 minutes at a time.

Whether it be Classical,Jazz,Contemporary or World music, the influences meld effortlessly into a richtapestry of sound.
The inspiration behind the music was drawn from real life experiences, from traveling and living in the Australian desert,Indigenous Arnhem land and Indigenous Culture from the East Coast of Australia.
 
Michael has played the didgeridoo for numerous Australian Indigenous dance group's including, Wakka Wakka, Nunukul Kunjeil, Jama Dreaming,  and over the last 5 year's Nunukul Yuggera. Michael and Silvana also worked with various Torres Strait islander group including Bi Mali Murri. Michael and Visions of a Nomad have produced and played for dance productions including collaborative works with Flamenco, African, Cuban, Brasilian, Japanese culture, and Contemporary dance, combined with World Fusion Jazz and Classical and Contemporary music elements.

In 1994, Michael Cuming and Silvana van dijk conceived the concept of 
ARC Dreaming
ARC dreaming involves Contemporary music and traditional Aboriginal music and dance combined. In that same year, they formed Culturebank, a productions Company and Independent Theatre working from a refurbished Warehouse in the heart of Brisbane Australia. Culturebank 's warehouse theatre was a creative whirlpool for Indigenous and Cultural artists. Years of performances and productions,inhouse ceremonies and corroborree have inspired amesmerizing, energetic body of musical works.
Visions of a Nomad
touches upon a diverse original repertoire, from classically influenced music accompanied by the didgeridoo, to latin, arabic and flamenco influenced jazz, pop and ballads. Touring the world has been the group's objective,the music has taken the group around the Globe, performing in prestigious concert halls, on festivals as well as doing the gig circuit, they have seen the sun rise in Holland, Ireland, japan, the U.S.A, Greece,Vietnam,Thailand, Fiji and have toured widely in Australia.

Key members, Michael Cuming and Silvana van Dijk were asked by the Olympic committee in Greece to produce an Aboriginal traditional performance for the Cultural Olympiad to be performed at the ruins of the Acropolis, Olympia, Kalamata and Lovos for which they chose the Australian Indigenous dance group NunukulYuggera.

Michael has also written film scores, produced a Documentary called
" Long road to Olympia"
and has written a score for National Geographic
Visions of a Nomad has no boundaries when it comes to exploring and fusing genres, explore the list below
Jazz world fusion
Harp fusion
Flamenco fusion
Instrumentation-key members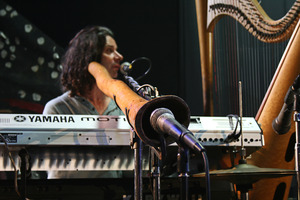 Michael Cuming
Composer, Arranger, Musician

        Keyboards,Didgeridoo,Guitar
        Classical Harp, Harmonica's,Percussion
        Vocals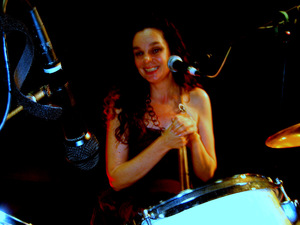 Silvana van Dijk
Musician

         Drum kit,small percussion,conga's,concertina,vocals
Juan Salvador

       Musician

       Electric Guitar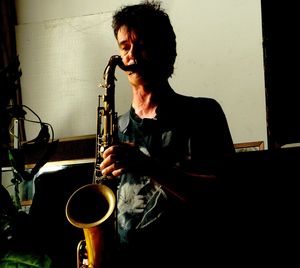 Julius Hofstetter
Musician

       Saxophones